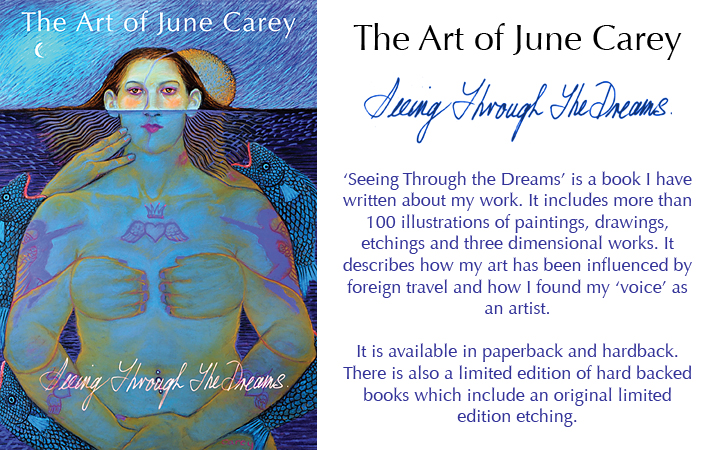 Carey's work is direct yet complex, full of hidden depths. Figures lie at its heart, but never alone. Recurring motifs include masks, heads, fish, birds, paper hats, icons, tattoos, keys, moons, hearts, wings and even the belching towers of Grangemouth, not too far from her Stirling home.

No-one else could mimic the freshness June Carey brings to her creations, which manifest themselves in a dizzying mix of media, from pastel to paint, etching to digital print and 3D. Sometimes all the media fuse brilliantly in one glorious creation. And, as with all of Carey's work, these initial ideas make their way towards a very different outcome from the one she envisaged. Surveying her output over the decades, it's clear a voyage around herself has been taking place.
Jan Patience, Journalist & Art Lover, Glasgow Herald and Daily Record.

Dreams play an important role in Carey's work. Her superb book 'The Art of June Carey - Seeing Through Dreams' makes this very apparent.
Dr. Elspeth King, Director, Stirling Smith

Carey's work is essentially about love - "the love that moves the sun, and other stars", - as Dante described it. Like Dante's 'Divine Comedy', her work features Heaven, Hell and Purgatory. By far, Heaven is her favourite place, as the vibrant blue backgrounds which frame her serene, angelic figures, testify.
Clare Henry, New York and Scotland 2014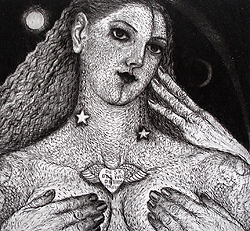 'The Art of June Carey, Seeing Through the Dreams' is available in Paperback £19.99, Hardback £29.99, and a Limited Edition Hardback £150 (including an original etching, 'Waiting for Love').

Above: 'Waiting for Love', etching, 15 x 16 cm.
You can order a copy of the book directly from me at
info@junecarey.com
or purchase from:

The National Galleries of Scotland, Princes Street, Edinburgh
Almost Corner Bookshop, Via Del Moro, Rome
Waterstones, 83 George Street, Edinburgh
Waterstones West End, 128 Princes Street, Edinburgh
Waterstones, Thistle Centre, Stirling
Smiths Art Gallery & Museum, Dumbarton Road, Stirling
The Fotheringham Gallery, Henderson Street, Bridge of Allan
The Meffan Museum & Art Gallery, 20 W. High Street, Forfar
The Smithy Gallery, 74 Glasgow Road, Blanefield
Glasgow Print Studio, 103 Trongate, Glasgow
R.G.I. Kelly Gallery, 118 Douglas Street, Glasgow
Roger Billcliffe Gallery, Blythswood St. Glasgow

Further outlets to follow